For most people, the thought of extending their home is a great way to add much needed space and value. Yet the process can be daunting, timely and of course expensive (before you have even started the building!).
We have spoken to one of our recent Extension Report customers to get the inside scope. Priya S wanted to extend their family home to increase the space they had and to add value to their property if they were to move in the future.
Looking at what was out there on the market they soon came in contact with an online architect who told them they could help. After a few phone calls, emails and conversations the process began to look lengthy and somewhat time consuming. They were looking to organise multiple site visits and wanted to discuss a lot about the property that Priya didn't know much about. On top of this the process was looking to cost them a hefty chunk of the money they have put aside for their extension. 
Priya decided to look for an alternative solution and happened to stumble across MASS Reports, who were offering a very similar service but a lot quicker and at a tenth of the cost. Feeling like it might be too good to be true she purchased and within 5 working days her Extension Report was in her hands. Loving the floor plans outlines where you could draw up your new extension report to size.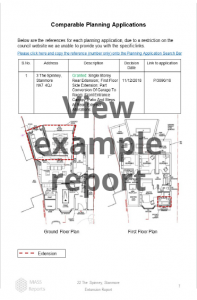 Here is a little more infortmation on what our extension report can offer:
We thought we would help tackle the initial stages of the extension process with our Extension Report. This report offers you insights into your neighbour's extensions, explaining rules and regulations as well as offering you a floor plan to print, draw and redraw your ideal layout.
Our Extension Report offers an insight into your home's true potential for unto a tenth of the cost and in a third of the time.
Our service is open to all houses great and small.
See prices here.